Post by RenoBeaver on Jul 13, 2020 17:53:14 GMT -8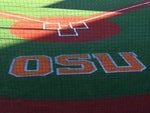 I certainly am happy not to be in charge of the college sports, the state or the country right about now.
Sorry to hear that you got sick Reno Beav and I do understand your future concerns.
But just to recap.... when this started our goal was to flatten the curve.
I think in Oregon and even the west coast we did that.
I also get that as a leader you make decisions to the best of your ability with the information you have at the time.... so maybe our goal should have been more lofty then flattening the curve?
I'm not clear on how Oregonians and Americans being more vigilant with the recommendations could have prevented the disease and stopped it in it's tracks... I'd like to hear more about that.
I do think concern over long term effects post infection is valid and we should start with we won't know all of them until we have had enough time to gather conclusions.
As of today Governor Brown is now requiring people to where masks when outside and closer than 6' to each other.  Honest question.... does this impact allowing fans to watch sporting events outside?  I'm not sure it should... and I've never been optimistic that Gov Brown was behind fans attending sporting events during the pandemic.
One last honest question... how much progress do we need to make in controlling the infection rate or deaths do we need to make before the teams can travel and play (even without fans)?
These are truly challenging times, the most challenging of my life... only 48 years so far.
I believe the goal was to flatten the curve then reopen following the guidelines outlined by the CDC.
To start with, some states didnt even shut down. Once many that did reopened, many of their residents threw caution to the wind. Hell, a good portion of our population believe it's a hoax or no different than the flu.
Where we are now was clear to see from the get go for me. I took 2 months off from traveling for biz and the very first time I did I saw 30 people standing around a craps table with no masks on my way to check in. Now Nevada is getting more positive tests than New York, New Jersey, and Mass, all states that were far more vigilant with their lockdown.
We failed, and there is no question why we failed. At this point testing should be tenfold what it is, with near immediate results. Instead we have a POTUS that believes if we test less there would be fewer cases. That is reducing funding for testing, causing testing sites to shut down, and slowing testing results.
Now we're going to force kids to go to school? What happens when a teacher finds out they have covid? Is every kid in the class going to get tested and quarantined? Are they going to find a substitute willing to go teach that class? What happens when a school has an outbreak, which will inevitably happen, and likely within the first month? Are they going to shut down the entire school?
The only answer our Gov't is offering is meh...so what. No plan whatsoever, just roll em out.
What happens when a teacher dies, or a janitor, or administrator, or school cook? What happens when a kid dies, because eventually that will happen too.
Sporting events really seem insignificant when you start thinking all the ways things can and will go sideways. I dont know the answer. But it seems ignoring public health officials and just saying f%#*it isnt the right one.